Portable Fiber Laser Marker Machine Emma-20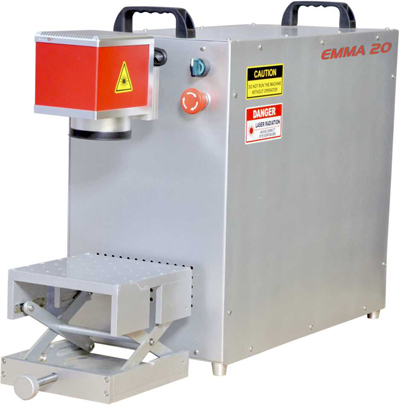 Features of Laser Marking Machine Emma
EMMA laser provide a fast, flexible and efficient way to permanently mark a wide variety of materials such as, metals, plastics, ceramics and silicon.
EMMA lasers are commonly used for identification and traceability marks such as serial numbers, date codes, manufacturers info, material flow, barcodes, 2D data matrix, logos, graphics & more.
EMMA fiber lasers can be easily integrated into tabletop marking system automated manufacturing cells, and customized multi-axis machine tools. Depending on the specific application requirements.

Features
• First and last pulse equally useable.
• Bitmap marking compatible.
• High repeatability/stability design.
• Status monitoring and safe shut down.
• High speed marking (MHz repetition rate).
• Long using time : the average using time more than 80000 hours.
• Good Stability and free maintenance : No need to Maintenance for laser device.

Applications of Laser Marking Machine Emma
The flexibility of the RM/HS series addresses multiple laser marking and micro-machining applications across a wide range of industries. Performance is particularly good for the following :

• Auto parts
• Packaging
• Hardware
• Solar Industry
• Watch & Clock
• Medical Device
• Marking on anodized & painted materials
• Marking on Metal & Plastics
Technical Specifications of Laser Marking Machine Etan 12/20/25/30
Model No
ETAN-12
ETAN-20
ETAN-25
ETAN-30
Laser average output power
12 W
20 W
25 W
30 W
Wavelength
1064 nm
Output Power Stability (Typical)
5%
2%
Power Adjusting Range

1 ~ 100 %

Resolution Frequency
25-200 KHz
30-200 KHz
Beam Quality (M²)
< 2
< 3
max. Linear Speed
7000 mm/s
Marking Depth
0.01~0.5 mm
(Material Depended)
0.01~1.0 mm
(Material Depended)
Red Alignment Laser
Yes
Min. Line Width
0.03 mm
Marking Area
145 x 145 (standard) 175 x 175 / 300 x 300 (Optical)
Anti High Reflect
With Optic Isolator
Min. Character Height
0.2 mm
Repetition Accuracy
0.2 µm
Marking Format
Figure, Characters, Barcode, Data matrix, Data, Order of runs, Lot number, Serial number, File chaining
Marking character Type
Support PLT, DXF, BMP file etc.,using SHX TTF character storage directly
Cooling system
Air Cooling System
Ambient Temperature Range
0°C top + 45°C
Marking Method
Static or Flying Marking
Power Supply
220V / 50Hz
Specifications are subject to change without notice