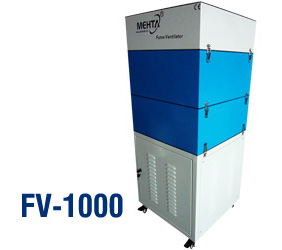 Overview of Fume Ventilator
Laser Fume Ventilator is designed for filtrating hazardous fumes and dusts which is generated in the process of laser processing, like laser cutting / engraving / marking/welding / cladding / coding etc. The main function of them is protecting the health of the employees, keeping the machines performance and decreasing environment pollution. Meantime, it can increase product quality, reduce potentional cost.
Filters
Primary Filter : F-00
G3, Class non-woven pas to filtrate large dust and particles, easy to replace, low cost.
Pre Filter : F-01
We have few different types high performance pre filter, such as filter pad, filter frame, filter bag, etc. they are sued to collect larger particles over 1-3 microns to prevent them from prematurely blocking the main filters.
Main Filter: F-02
The main filter used in Fume Ventilator have been designed to offer many unique features.
• Maximum Airflow : The filter design allow the use of high pressure blowers to overcome the resistance to air-flow through a filter for much longer as the filter begins to block. This means the filters last longer.
• Maximum Filtration : It can remove 99.997% of all particles above 0.3 microns and 95% down 0.01 micron.
• Flow Equalisation Plates : Help to distribute the airflow over the filter and make the whole filter more rebust.
• Precise and rigid construction : No fumes are allowed to pass around the filter and escape into workplace.
Gas Filter : F-03
Fume Ventilator chemical air filters capture contaminant gases from fumes by using Activated Carbon and other mixed materials.
Fume Ventilator Should Be Use With

Laser Engraver Mercury III

GCC Engraver Spirit

GCC Laser Engraver C180

Libra 43 Laser Engraver

Libra 480 Laser Engraver

ETAN Laser Marking Machine
Technical specifications
Model No.
FV-1000
Max. Airflow
1000 m2/h
Input Power
750W
Voltage
220V, 50/60Hz
Motor Life -Time
≥20,000h
Air Pressure
2200Pa
Filtration Rate
≥99.7%
Noise
≤65dBA
Size
500 x 520 x 1250 mm
Net Weight
95 Kg
Inlet Diameter
100 mm
Specifications are liable to change without prior notice.