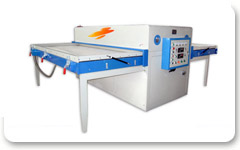 VACUUM PRESS FILM COVERING MACHINE CMF 2500 A3
• The Fully automatic multifunction and double edge furring equipment.
• You can work with all foils (PVC, PET, PO etc.) high class foils as well as veneers or laminates.
• PVS film can be precisely pressed on uneven surfaces.
• Dual heater used for consistant heating.
• Stationary hot room reduces chances for damage to the heater assembly.
Read More...