Vacuum Press Machine CMF 2500 A3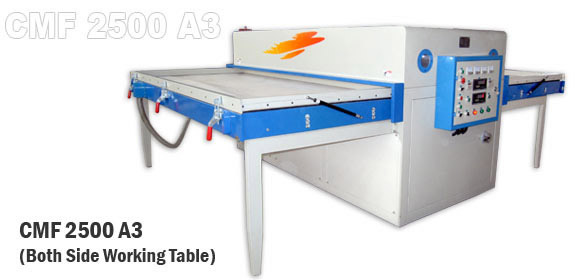 Features of CMF 2500 A3 Vacuum Press Machine
• The Fully automatic multifunction and double edge furring equipment.
• You can work with all foils (PVC, PET, PO etc.) high class foils as well as veneers or laminates.
• PVS film can be precisely pressed on uneven surfaces.
• Dual heater used for consistant heating.
• Stationary hot room reduces chances for damage to the heater assembly.
• Auto and manual both operations can be performed.
• Both side vacuum bed arrangement is possible for mass production.
Technical specifications
Model
CMF 2500 A3
Overall Dimension
7560 x 1410 x 1380 mm
Work Table Size
2480 x 1140 x 60 mm
Vacuum (Negative Pressure)
≥-0.095 Mpa
Operating Height for work piece
60 mm
Machine Dimension
5800 x 1400 x 1400 mm
Cycle Time
2 min
Board Type
MDF / HDF
Board Thickness upto
60 mm
Surface Laminate Material
PVC Film
Machine Weight
1050 kg
Gross Power
16 Kw
Actual Power Consumption
8 Kw
Above specifications are subject to change without prior notice